"WELCOME TO DOCUMENT RECORDS"
Blues Blues Christmas
We are excited to present our latest release: DOCD-32-20-21
Blues, Blues, Christmas Vol. 4: 1925 – 1962.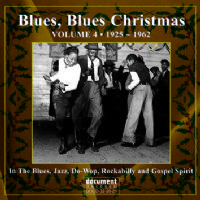 Various Artists. Double CD with 40 tracks.16 page illustrated booklet with informative notes written by Jeff Harris. Includes detailed discography.
Genres: American: Blues, Jazz, Gospel, R&B, Doo-Wop, Calypso, Rockabilly, Old Timey, Western Swing.
You see before you the fourth double CD set of Blues, Blues Christmas, as we once gain dive deep into the well of Christmas music to gather some holiday gems from decades past. We've gotten progressively more ambitious in our selections, jumping between genres that include blues, gospel, jazz, rock, doo-wop and calypso recorded between the 1920's through the 1960's, many songs which have not been anthologized before. Armed with all four volumes the hours of music will be more than enough to fuel your next holiday bash.

Volume 1


Volume 3

If you missed them in previous years why not treat yourself to our other festive volumes. The Christmas CDs are all "doubles" containing extensive notes by Jeff Harris with detailed discographies
You can buy them individually or in our budget Christmas Bundle (right)
2015 Blues Calendar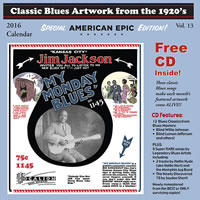 Includes a 24 track FREE CD with the Legendary $37,000 Tommy Johnson Paramount 78!
** Sold Out **
With never-before-seen-photos of Roosevelt Sykes, Willie Lofton & Son Bonds!
Featuring 24 classic Pre-War Blues songs from such artists as:
Memphis Minnie, Charley Patton, Blind Lemon Jefferson, Tommy Johnson,
Roosevelt Sykes, Garfield Akers, Willie Lofton, Gus Cannon and more!!
NEW RELEASES


New releases on the 8,000 series:
This ever popular series spotlights the many masters of the early Country Music genre known to many as Old Timey music.
The Georgia Yellow Hammers Volumes 3 & 4
Bill Chitwood and Bud Landress, with their friends Phil Reeve, Ernest Moody and Clyde Evans, and associates such as Andrew and Jim Baxter, the Harper brothers, Gus Boaz, Lawrence Neal and others, would represent and promote the musical culture of their region for most of a decade.
Thanks to them, Gordon County, Georgia, has come to be held in high regard by lovers of old-time Southern music.
Today we can see it as a prism, its facets reflecting the different forms of Southern music: old-time fiddling, quartet singing, stringband ensembles, rustic comedy, yodelling, blues.
New Release on the 5000 series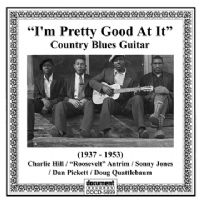 I'm Pretty Good At It - Country Blues Guitar (1928-1953)

Various Artists. Charley Hill, Roosevelt Antrim, Sonny Jones, Dan Pickett and Doug Quattlebaum
Informative booklet note by Bob Groom.
Detailed discography.
Genres: Accoustic, Country Blues, Guitar. Bottleneck-Slide Guitar. Ragtime Guitar
New Release on the 7,000 Series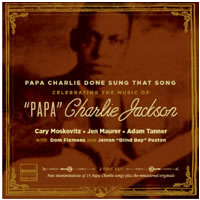 Papa Charlie Done Sung That Song: Now on Document Records:
Background: As an admirer and performer of Papa Charlie's music, Chapel Hill-based Cary Moskovitz has gathered together a group of wonderful musicians to help make a tribute CD, and he's lined up an excellent recording studio and engineer. As he has been working on putting this project together, he has found a couple of other admirers of Papa Charlie. Gary Atkinson, who runs Document Records is one of them and Moskovitz has worked out a deal with him to put out this recording on Document. They have agreed to make it a two-disc set-one disc with the tribute recordings and a second disc with the Papa Charlie originals, which Document will remaster to improve the sound quality.
Celebrating the Music of Papa Charlie Jackson
The 2-CD set, featuring Adam Tanner and Jen Maurer with guests Dom Flemons and Jerron "Blind Boy" Paxton, includes new interpretations of 15 Papa Charlie songs (Disc 1) plus the remastered originals (Disc 2).
This is a milestone project for Document Records and for aficionados of traditional blues and related music of the early 20th century. For Document, it is exceptional in containing material by living musicians, a rarity for the label. For music lovers, it contains both the first-ever recorded tribute to Papa Charlie Jackson (Disc 1) and the first selected compilation of Papa Charlie's music since vinyl (Disc 2). Charlie Jackson is a pivotal figure in American music history.
Historians credit Jackson with being the first famous male blues singer, the first famous self-accompanied blues artist, and the first blues musician to record primarily original material. Jackson cut his first sides in 1924 and by the late 20's was one of Paramount Records' biggest stars. His unusual virtuosity on 6-string banjo also put him in demanded as an accompanist for major early blues singers such as Ma Rainey and Lucille Bogan. On the banjo-driven tribute disc, Cary Moskovitz, Jen Maurer, and Adam Tanner are joined by guests Dom Flemons (formerly of the Carolina Chocolate Drops) and up-and-coming early blues master Jerron "Blind Boy" Paxton—along with a host of others. The five singer-musicians are accompanied by an exceptionally wide variety of instrument combinations include tenor and 6-string banjos, fiddle, guitar, piano, bass, tuba, harmonica, clarinet, trumpet, bass clarinet, accordion, trombone, euphonium, tenor guitar, and kazoo.
In addition to the two discs, the 16-page booklet contains a musical biography of Jackson written by Jas Obrect, former editor of Guitar Player magazine and author of books such as Blues Guitar: The Men Who Made the Music and Rollin' & Tumblin': The Postwar Blues Guitarists.
---
Final Vinyl
We have a limited Stock of Vinyl - First Come First Served...
| | | | |
| --- | --- | --- | --- |
| | | | |
| | | | |
| | | | |
Let's Whoop it up on Black Friday
All these titles at £2.49 plus tax and shipping until 05 December
The Complete Jazz Perspective Series
Vintage recordings from some of the historic masters of Jazz including Bunk Johnson, Clifford Hayes, Teddy Bunn, Johnny Dunn, Porter Grainger and many more...
All at £2.49
The Complete Document 1000 Series
Some of the greatest names in Vintage Jazz, Boogie-woogie and Blues, including, Pete Johnson, Jimmy Yancey, Albert Ammons, Alberta Hunter, Kid Ory, Leadbelly and many more...
All at £2.49
| | | |
| --- | --- | --- |
| | | |


DOCUMENT DOWNLOADS

Individual tracks, or entire albums, from the Document Records catalogue can be downloaded from the comfort of your home or office from Emusic. Click here
DOCUMENT PODCASTS
MUSIC LICENSING
We offer a comprehensive music licensing service, digital re-mastering service and film soundtrack / archive service.
Enquiries: music.licensing@document-records.com
or View our media services page
DOCUMENT EDUCATIONAL



Special rates for all Document products are available for Schools, Colleges, Universities, Museums and any other places of education or research. Please email your enquiries to sales@document-records.com
DOCUMENT RECORDS CATALOGUE

For less than the price of most CDs on the market Document presents The Catalogue.
One hundred and fifty pages, many printed in full colour.
Over eight hundred and eighty titles.
Over twenty thousand tracks.
Over two thousand three hundred main artists indexed alphabetically.
Click here for more details for the catalogue that's a collectors item itself!.
DOCUMENT NEWSLETTER
Waiting in excited anticipation for the postman, Fanny knows just exactly what she's going to get and when she's going to get it...
...now that she has her free subscription to the Document Newsletter..

If you want to be one of the first to be told about our Great New Releases, Special Offers, News Items, Features and more, just take a few seconds to register your FREE subscription and we'll keep you posted.. Simply enter your Email address to sign up.
DOCUMENT SECURITY
Credit and Debit Card Payments:
We have decided that it is safer all round that we no longer process credit card and debit card payments via our own web site. At the check out you will now be offered the choice of PayPal or cheque. If you wish to pay by credit card or debit card choose the PayPal option.
---