"WELCOME TO DOCUMENT RECORDS"
2015 Blues Calendar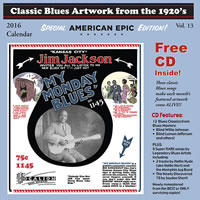 Includes a 24 track FREE CD with the Legendary $37,000 Tommy Johnson Paramount 78!
With never-before-seen-photos of Roosevelt Sykes, Willie Lofton & Son Bonds!
Get your new 2015 Blues Artwork Calendar with Free CD!
Featuring 24 classic Pre-War Blues songs from such artists as:
Memphis Minnie, Charley Patton, Blind Lemon Jefferson, Tommy Johnson,
Roosevelt Sykes, Garfield Akers, Willie Lofton, Gus Cannon and more!!
NEW RELEASES
Blues, Blues, Hoodoo Halloween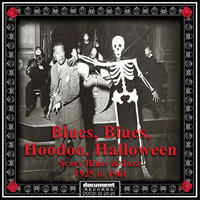 A treatise could be written about the cultural meanings of Hoodoo and Voodoo in Blues lyrics and indeed Catherine Yronwode's "HOODOO IN THEORY AND PRACTICE.
An Introduction to African-American Rootwork "is a highly recommended read.
She says "Hoodoo consists of a large body of African folkloric practices and beliefs with a considerable admixture of American Indian botanical knowledge and European folklore. Although most of its adherents are black, contrary to popular opinion, it has always been practiced by both whites and blacks in America.
Other regionally popular names for hoodoo in the black community include "conjuration," "conjure," "witchcraft," "rootwork," and "tricking." The first three are simply English words; the fourth is recognition of the pre-eminence that dried roots play in the making of charms and the casting of spells and the fifth is a special meaning for a common English word.
This CD represents a cross section of some of the finest tracks produced. In the future we hope to bring you more but for now we hope that this CD makes your Halloween listening a spooky pleasure!

New releases on the 8,000 series:
This ever popular series spotlights the many masters of the early Country Music genre known to many as Old Timey music.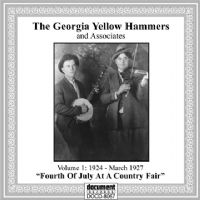 We have been working with Tony Russell, Harry Bolick and others to expand the series and we are delighted to present the first two volumes in a series of four of The Georgia Yellowhammers "Bill Chitwood and Bud Landress, with their friends Phil Reeve, Ernest Moody and Clyde Evans, and associates such as Andrew and Jim Baxter, the Harper brothers, Gus Boaz, Lawrence Neal and others, would represent and promote the musical culture of their region for most of a decade. Thanks to them, Gordon County, Georgia, has come to be held in high regard by lovers of old-time Southern music.
Today we can see it as a prism, its facets reflecting the different forms of Southern music: old-time fiddling, quartet singing, stringband ensembles, rustic comedy, yodelling, blues."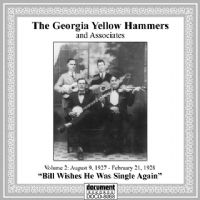 Aided by this collection (and the music of the Baxters, available elsewhere on Document), we can hold a magnifying glass over a map of Gordon County, so that towns and communities leap into large-print life.
We see the streets of Calhoun and Resaca and Sugar Valley, hear the rattle of wagon wheels and the distant whistle of the railroad train, the massed voices from the singing convention in Calhoun's City Auditorium, the strains of contesting fiddlers at the Courthouse, of the Baxters playing for picnickers at Dew's Pond, and of Bill and Bud and their cronies serenading the townsfolk in Gentlemen's Park.
New Release on the 5000 series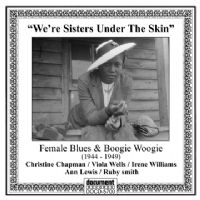 "We're Sisters Under The Skin" Female Blues & Boogie Woogie 1944 to 1949.
Various Artists.

Informative booklet notes by Bob Groom.

Detailed discography.

---


DOCUMENT DOWNLOADS

Individual tracks, or entire albums, from the Document Records catalogue can be downloaded from the comfort of your home or office from Emusic. Click here
DOCUMENT PODCASTS
MUSIC LICENSING
We offer a comprehensive music licensing service, digital re-mastering service and film soundtrack / archive service.
Enquiries: music.licensing@document-records.com
or View our media services page
DOCUMENT EDUCATIONAL



Special rates for all Document products are available for Schools, Colleges, Universities, Museums and any other places of education or research. Please email your enquiries to sales@document-records.com
DOCUMENT RECORDS CATALOGUE

For less than the price of most CDs on the market Document presents The Catalogue.
One hundred and fifty pages, many printed in full colour.
Over eight hundred and eighty titles.
Over twenty thousand tracks.
Over two thousand three hundred main artists indexed alphabetically.
Click here for more details for the catalogue that's a collectors item itself!.
DOCUMENT NEWSLETTER
Waiting in excited anticipation for the postman, Fanny knows just exactly what she's going to get and when she's going to get it...
...now that she has her free subscription to the Document Newsletter..

If you want to be one of the first to be told about our Great New Releases, Special Offers, News Items, Features and more, just take a few seconds to register your FREE subscription and we'll keep you posted.. Simply enter your Email address to sign up.
DOCUMENT SECURITY
Credit and Debit Card Payments:
We have decided that it is safer all round that we no longer process credit card and debit card payments via our own web site. At the check out you will now be offered the choice of PayPal or cheque. If you wish to pay by credit card or debit card choose the PayPal option.
---