Review of Blues, Blues by David "Honey Boy" Edwards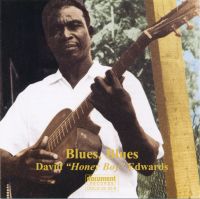 The following review appeared in Blues & Rhythm #212 September 2006.

DAVID 'HONEY BOY' EDWARDS: Blues, Blues
Document DOCD-32-29-8 (44:55)

Catfish Blues, Bad Rooster, Blues, Blues, Sweet Home, Chicago, Key To The Highway, Bumble Bee, Louise, Kansas City, Drop Down Mama, I Love You Baby, Take Me In Your Arms, When You Get Lonesome
For as long as I can remember one of my all time favourite albums has been, 'Negro Blues And Hollers', (Library of Congress LP AFS L59), which not only includes one of my most played acoustic titles Willie Brown's 'Mississippi Blues', but also on that outstanding collection is one sparkling track from Edwards, 'Worried Life Blues', recorded by Alan Lomax in Clarksdale, Mississippi during 1942. I have enjoyed Edwards' music ever since hearing this solo title ahd I am particularly pleased to see this 1975 recording, which was originally issued on the Roots label (SL- 518), re-issued with interesting notes by Gary Atkinson.
Ninety-one year old, Edwards has been a frequent visitor to the UK since the mid seventies and only this summer he was headliner at the blues festival held at Maryport, Cumbria. This Mississippi born, acoustic guitarist, harmonica player and vocalist has led an eventful life, which is fascinatingly recorded in his autobiography, The World Owes Me Nothing', (Chicago Review Press 1997) - a very highly recommended read.
After leaving home aged seventeen Edwards initially teamed up with the wandering Big Joe Williams and he spent the next 35 years or so travelling around the United States living off his music, wits and incredible gambling skills before finally settling in Chicago. The musicians and singers that he saw and played with reads like a who's who of the blues world, including among others, Charlie Patton, Muddy Waters, Howlin Wolf, Robert Petway, Memphis Minnie, Tommy McLennan, and of course, his much documented times with, Robert Johnson.
I am sure that everywhere he goes today Edwards is asked about his friendship with Johnson, but Edwards is very much his own man and his recordings from 1942, (which thankfully all appear on his 1993 release, Delta Bluesman, Indigo IGO CD 2003), show that he was indeed a fine finger picking guitar player with engaging vocals. The singing throughout this new set is gutsy and heartfelt while the guitar playing, although not as complex as back in 1942, is solid and hits a highly individual groove that very few players today can emulate with such authority.
As Atkinson suggests in his notes this selection,'. . . plays like a micro potted biography of Honey Boy's life. . .', and includes songs from his buddies such as Robert Petway, Howlin' Wolf and Sleepy John Estes. There is a vibrant version of Robert Johnson's Sweet Home Chicago', one of three titles played using a slide and three other titles have some richly textured rack harmonica playing. I particularly enjoyed his version of Robert Petway's much emulated song Catfish Blues' which has some understated driving guitar work, and his original title Blues, Blues' illustrates, that he can write some heartfelt lyrics.
The term 'legendary' is often used too easily these days but in Edwards' case I think that it is truly deserved. Here is a man that has had a long eventful and often very hard life while always willing to share his music and experiences with others - and long may it continue.

Thanks to Bob Tilling and Blues & Rhythm

Click here to buy Blues, Blues
by David Honey Boy Edwards

Click here to visit Blues & Rhythm