Review of Broadcasting the Blues Compiled by Paul Oliver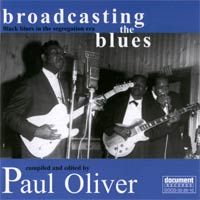 The following review appeared in Elmore magazine #11 August 2006.
For most listeners the big draw here is the music, i.e. the best of the blues, re mastered, and assembled in a fine three- CD collection. For others, like myself, the name of British scholar Paul Oliver is just as significant as the artists presented. Oliver's research makes him the man most aficionados turn to when it comes to the blues. The collection stems from a series of BBC radio programs titled Before the Blues, done in 1988 in collaboration with Langston Hughes.
Beginning with the field hollers and other work-related songs, Oliver sets about exploring the wide range of influences on a music which seemed to have sprung up overnight on the Mississippi delta and then spread to Chicago and subsequent world acdaim. Influences cited come from the worlds of entertainment, recreation, and, fox-hunting. Artists such as Big Joe Williams, "Baby Please Don't Go" later recorded by Van Morrison, and big names like Robert Johnson, Bessie Smith, Blind Lemon Jefferson, and Mississippi John Hurt are represented here by both their classic and rarely heard material. Recorded interviews with John Lee Hooker, Speckled Red, and Lonnie Johnson add depth to the mix.
All in all, this is a collector's collection. With many "tours" of the blues available on CD, it's even nicer to have the genre's best tour-guide.
Thanks to Roy "hellhound" Markowitz
and Elmore Magazine
Click here to buy Broadcasting The Blues
Click here to visit Elmore Magazine